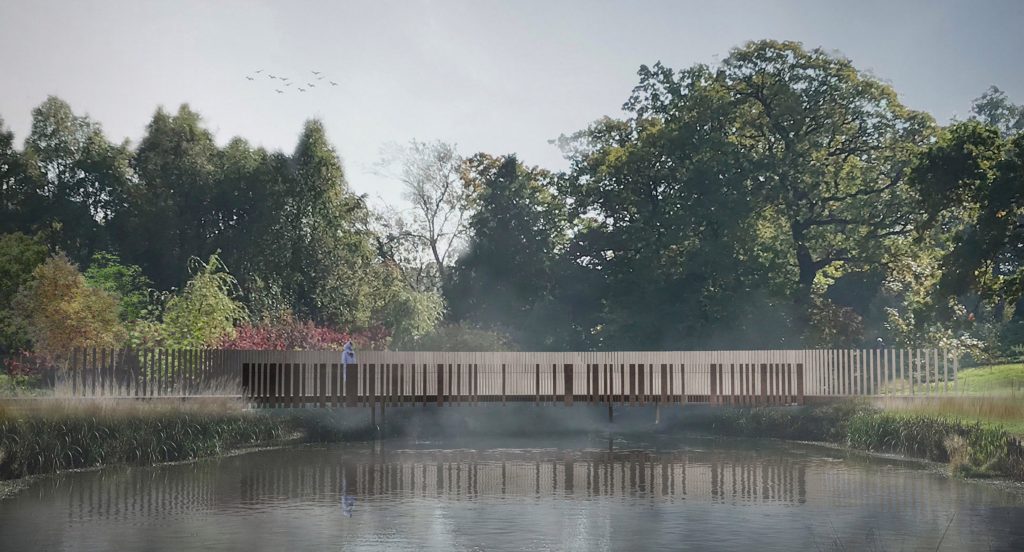 Gallery
#GAG 150 Thaliana Bridge for RHS Garden, Harlow Carr North Yorkshire




"The paired curving forms of the bridge not only reflect the site-specific routes and orientation but also refers to the chromosomes of Arabadopsis Thaliana. The rear curved element forms a back screen, deliberately neutral and simple in appearance whilst the front balustrade facing the lake and gardens beyond is a sculptural element formed in a sequence of weathered steel fins and faces which vary in density and represent the sequenced RDA of the Arabadopsis Thaliana chromosome".

Gagarin Studio and DP Squared Engineers, working with The Landscape Agency have completed a new bridge at RHS Garden Harlow Carr, North Yorkshire.

The Thaliana Bridge spans over the Queen Mother Lake at the south end of the gardens creating improved access, new routes and new views to and from the bridge across the water. New lakeside gardens are proposed by The Landscape Agency and an existing bank of trees will be strengthened to provide a more effective buffer to the adjacent road noise.

The bridge design is inspired by the pioneering research of Dr Rachel Leech and her genome sequencing of the Arabadopsis Thaliana, the first plant to have its genomes fully sequenced, enabling it to become a model organism for other research programmes.

The bridge is 21 metres long and 3 metres wide and fabricated in weathering steel and pre-weathered larch and we're looking forward to sharing images soon.